« Back to All Press
Window World Sells 10,000,000th Window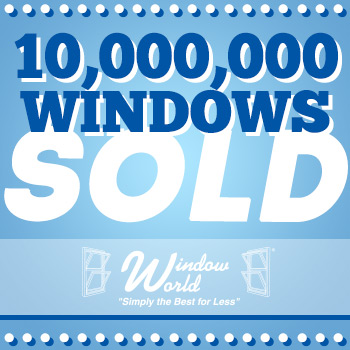 NORTH WILKESBORO, N.C., Sept. 9, 2014 (GLOBE NEWSWIRE) — Window World®, America's largest replacement window and home remodeling company, has announced it recently sold its 10,000,000th window.
Dana Deem, president of Window World said of the achievement, "Hitting the 10 million window mark is an incredible accomplishment. We're proud of the products, value and quality that Window World provides, and we are beyond excited about reaching this landmark because it indicates our customers agree."
10 million windows is an incredible number to fathom. Accounting for the industry-standard window height of 60 inches, 10 million windows laid touching, from bottom to top, equates to 9,470 miles, or 1.2 times the diameter of the earth! Vice President Mark Bumgarner said, "It's astonishing to me we've hit this milestone in so little time. We're excited to sell our next 10 million windows because we know our sales will have a positive impact in the communities we serve. Not only do we enhance the beauty, value and energy efficiency of our customer's homes, we also give back to those in need."
Window World has sold over 1,000,000 windows annually since 2009. Its team attributes strong sales even in weak economic times to a steadfast commitment, enterprise-wide, to fulfilling the Window World promise of providing superior products, professionally installed, at a guaranteed low price.
---
About Window World of Central Illinois
Window World of Central Illinois is locally owned and operated in Springfield, IL. The store, located at 6200 S. 2nd St., Unit B, Springfield, IL, serves homeowners in the counties of Champaign, Christian, Coles, Cumberland, DeWitt, Douglas, Edgar, Effingham, Logan, Macon, Menard, Morgan, Moultrie, Piatt, Sangamon, Shelby and Vermillion. For more information about Window World of Central Illinois, visit www.windowworldcentralillinois.com or call (217) 544-0400.
« Back to All Press